Far North
by Will Hobbs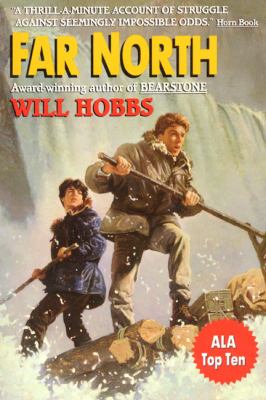 Kirkus
Copyright © Kirkus Reviews, used with permission.
9780688141929
Stranded in an uninhabited area of Canada's Northwest Territories, two teenagers and an old Indian hunter face a winter so brutal residents call it ``The Hammer.'' Gabe, 15, has come to boarding school in Yellow Knife to be nearer his oilman father. When his taciturn Athapaskan roommate, Raymond, quits school to fly back to his village, Gabe goes along. A spur-of-the- moment trip to see spectacular Virginia Falls turns into disaster when plane and pilot are swept away. Gabe and Raymond are left with a small cache of survival gear, plus a third passenger, Raymond's great-uncle, Johnny Raven, to keep them alive. Johnny teaches his two charges rudimentary survival skills, then finds them an old cabin in which to hole up before he dies. Weeks and repeated brushes with death later, the destruction of their food supply by a grizzly bear forces them into a grueling trek to Raymond's home. Although Hobbs (Beardance, 1993, etc.) doesn't write with the immediacy or meticulous attention to detail that Gary Paulsen brings to Brian's Winter (1996) or its prequel, Hatchet (1987), he summons plenty of uncontrived danger for his characters to face both foolishly and heroically. The conflict between modern and traditional ways is pervasive, as Raymond, a misfit in both worlds, struggles to find out who he is. (Fiction. 10-13)
Horn Book
(c) Copyright The Horn Book, Inc., a wholly owned subsidiary of Media Source, Inc. No redistribution permitted.
9780688141929
Fiction: O A routine sightseeing flight ends in disaster in the Northwest Territories, stranding fifteen-year-old Gabe; Raymond, an Athabaskan Indian from a remote village; and Raymond's ailing great-uncle, the only one of the trio with any real survival skills. What follows is a thrill-a-minute account of their struggle. Deeper issues are addressed, including the contrast between Gabe's culture and Raymond's, and between Raymond's and his uncle's cultures. Horn Rating: Superior, well above average. Reviewed by: mmb (c) Copyright 2010. The Horn Book, Inc., a wholly owned subsidiary of Media Source, Inc. No redistribution permitted.