The All-True Travels and Adventures of Liddie Newton
by Jane Smiley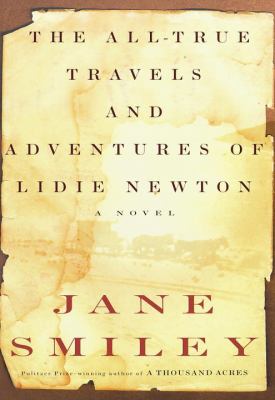 Kirkus
Copyright © Kirkus Reviews, used with permission.
9780375702235
Smiley (Moo, 1995, etc.) scales another peak with this bighearted and thoughtful picaresque novel set mostly in the Kansas Territory shortly before the Civil War. Narrator Lydia ``Lidie'' Harkness grows up in Quincy, Illinois, a tomboyish burden to her several older stepsisters, and leaps at the chance to marry Thomas Newton, a soft-spoken abolitionist who's bent on helping the ``free-staters'' dedicated to protecting Kansas against those who would make it a slave state. Missourians crossing the border wreak havoc on such hotbeds of abolitionist activity as Lawrence (near which the Newtons settle), and Thomas is soon one of many casualties. The ``disputacious'' Lidie?who'd become an even more ardent free-stater than her husband?thereafter sets off on an eastward journey seeking revenge and finding instead an unexpected empowerment. Her adventures while disguised as a boy (``Lyman Arquette''), reporting for a proslavery newspaper, and helping a woman escape a plantation are recounted with a zest and specificity that beg comparison with Mark Twain's portrayal of the immortal Huck Finn. Lidie is a splendid creation: a forthright, intelligent woman who recognizes, long before she can articulate it, the kinship of women relegated to submissive housewifery with people who are literally bought and sold?and who acts to change things. Surrounding her are such agreeable supporting characters as silver- tongued, slave-owning widower ``Papa'' Day, ``radical'' Louisa Bisket (who considers corsets symbolic of male tyranny), and the superbly unctuous David Graves, blithely unimpeded by loyalties of any variety (``My principle is to serve both sides, to have no sides, indeed, but to serve all!''). Not all of Smiley's obviously scrupulous research is transmitted successfully into story?Lidie does mull over political and social complexities a mite compulsively. Little else goes awry, though, in the richly entertaining saga of a woman who might have been well matched with Thomas Berger's ``Little Big Man,'' and whom Huck Finn would have been proud to claim as his big sister. (First printing of 200,000)
Kirkus
Copyright © Kirkus Reviews, used with permission.
9780375702235
Smiley (Moo, 1995, etc.) scales another peak with this bighearted and thoughtful picaresque novel set mostly in the Kansas Territory shortly before the Civil War. Narrator Lydia ``Lidie'' Harkness grows up in Quincy, Illinois, a tomboyish burden to her several older stepsisters, and leaps at the chance to marry Thomas Newton, a soft-spoken abolitionist who's bent on helping the ``free-staters'' dedicated to protecting Kansas against those who would make it a slave state. Missourians crossing the border wreak havoc on such hotbeds of abolitionist activity as Lawrence (near which the Newtons settle), and Thomas is soon one of many casualties. The ``disputacious'' Lidie?who'd become an even more ardent free-stater than her husband?thereafter sets off on an eastward journey seeking revenge and finding instead an unexpected empowerment. Her adventures while disguised as a boy (``Lyman Arquette''), reporting for a proslavery newspaper, and helping a woman escape a plantation are recounted with a zest and specificity that beg comparison with Mark Twain's portrayal of the immortal Huck Finn. Lidie is a splendid creation: a forthright, intelligent woman who recognizes, long before she can articulate it, the kinship of women relegated to submissive housewifery with people who are literally bought and sold?and who acts to change things. Surrounding her are such agreeable supporting characters as silver- tongued, slave-owning widower ``Papa'' Day, ``radical'' Louisa Bisket (who considers corsets symbolic of male tyranny), and the superbly unctuous David Graves, blithely unimpeded by loyalties of any variety (``My principle is to serve both sides, to have no sides, indeed, but to serve all!''). Not all of Smiley's obviously scrupulous research is transmitted successfully into story?Lidie does mull over political and social complexities a mite compulsively. Little else goes awry, though, in the richly entertaining saga of a woman who might have been well matched with Thomas Berger's ``Little Big Man,'' and whom Huck Finn would have been proud to claim as his big sister. (First printing of 200,000)