Hot Titles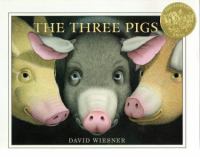 The Three Pigs
by David Wiesner
Kirkus
Copyright © Kirkus Reviews, used with permission.
9780618007011
With this inventive retelling, Caldecott Medalist Wiesner (Tuesday, 1991) plays with literary conventions in a manner not seen since Scieszka?s The Stinky Cheese Man and Other Fairly Stupid Tales (1993). The story begins with a traditional approach in both language and illustrations, but when the wolf huffs and puffs, he not only blows down the pigs? wood and straw houses, but also blows the pigs right out of the story and into a parallel story structure. The three pigs (illustrated in their new world in a more three-dimensional style and with speech balloons) take off on a postmodern adventure via a paper airplane folded from the discarded pages of the traditional tale. They sail through several spreads of white space and crash-land in a surreal world of picture-book pages, where they befriend the cat from ?Hey, Diddle Diddle? and a charming dragon that needs to escape with his cherished golden rose from a pursuing prince. The pigs, cat, and dragon pick up the pages of the original story and return to that flat, conventional world, concluding with a satisfying bowl of dragon-breath-broiled soup in their safe, sturdy brick house. The pigs have braved the new world and returned with their treasure: the cat for company and fiddle music, the dragon?s golden rose for beauty, and the dragon himself for warmth and protection from the wolf, who is glimpsed through the window, sitting powerlessly in the distance. On the last few pages, the final words of the text break apart, sending letters drifting down into the illustrations to show us that once we have ventured out into the wider world, our stories never stay the same. (Picture book. 5-9)
Horn Book
(c) Copyright The Horn Book, Inc., a wholly owned subsidiary of Media Source, Inc. No redistribution permitted.
9780618007011
In this postmodern interpretation, the style of the artwork shifts back and forth a few times, as Wiesner explores different realities within a book's pages. The story begins by following the familiar pattern, but the art and dialogue balloons tell another tale: the pigs actually step out of the panel illustrations without being eaten and the perplexed wolf remains behind. There's a lot going on here, but once you get your bearings, this is a fantastic journey told with a light touch. (c) Copyright 2010. The Horn Book, Inc., a wholly owned subsidiary of Media Source, Inc. No redistribution permitted. All rights reserved.
...More
Catch And Kill
by Ronan Farrow
Kirkus
Copyright © Kirkus Reviews, used with permission.
The award-winning journalist sharply illuminates how he exposed Harvey Weinstein as a serial sexual predator.Along the way, Farrow (War on Peace: The End of Diplomacy and the Decline of American Influence, 2018)a New Yorker contributing writer who has won the Pulitzer Prize, National Magazine Award, and George Polk Awardoffers a primer on investigative journalism, a profession that he is well on the way to mastering. For this book, he writes, he drew "on interviews with more than two hundred sources, as well as hundreds of pages of contracts, emails, and texts, and dozens of hours of audio." As the son of Woody Allen and Mia Farrow, the author has wrestled for years with allegations of sexual assault in his own family, leveled by his sister Dylan against their father. During his investigation of Weinsteinand later, multiple high-level sexual predators within NBCFarrow had to fend off complaints that he was too close to the story. Along the investigative path, the author sought insight from his sister and relied on the steadfast support of his partner. Though Farrow and his producer believed their pursuit of Weinstein had the blessing of the top brass at NBC, they gradually learned that Weinstein was using his massive influence to sabotage the investigation. Consequently, the author took his work to the New Yorker, where editor David Remnick provided a venue for him to present his story. Ultimately, Weinstein was arrested. In addition to chronicling his work on the Weinstein project, Farrow also discusses the transgressions of Donald Trump and Matt Lauer. At times, the book is difficult to read, mainly because Weinstein, Trump, Lauer, and other powerful men victimized so many women while those who knew about the assaults stayed quiet. Nonetheless, this is an urgent, significant book that pairs well with She Said by New York Times reporters Jodi Kantor and Megan Twohey. Both books are top-notch accounts filled with timeless insights about investigative journalism, on a par with classics from Seymour Hersh and Bob Woodward.A meticulously documented, essential work. Copyright Kirkus Reviews, used with permission.
...More