by Patricia Bell-Scott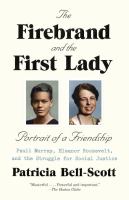 Kirkus
Copyright © Kirkus Reviews, used with permission.

A significant new exploration of the enormously important friendship between two activist crusaders in advancing the cause of civil rights for blacks and women. Although the Baltimore-born black lawyer Pauli Murray (1910-1985) and first lady Eleanor Roosevelt (1884-1962) exchanged more than 300 letters during their lifetimes, met occasionally, and worked in tandem on issues of social justice, there has not been a proper study of their mutually influential friendship until now. In this stellar work of scholarship, Bell-Scott (Emerita, Women's Studies and Family Science/Univ. of Georgia; Flat-Footed Truths:Telling Black Women's Lives, 1998, etc.) has sifted through their correspondence for evidence of their evolving ideas on black-white issues and how each took the measure of the other while working doggedly to bring down social and professional barriers. Eleanor tirelessly promoted integration despite the public caution that her husband demonstrated, and she first met Murray in 1933 as a college graduate attending Camp Tera (Temporary Emergency Relief Administration), a pilot facility for struggling unemployed women that Eleanor had pushed to create during the Depression. Subsequently, Murray would go on to get advanced law degrees and work as deputy California attorney general and, later, as a professor. All the while, Murray idolized Eleanor ("the most visible symbol of autonomy and therefore the role model of women of my generation") and frequently wrote to heror to the president, sending her a copy of the letter. She laid out in no uncertain terms the plight of the African-American, "the most oppressed, most misunderstood and most neglected section of your population," especially in the South, where she had lived as an orphan. From getting anti-lynching legislation passed to pressuring institutions of higher learning to integrate, the two women bolstered or chided each other candidly in their letters involving issues which Eleanor frequently referred to in her newspaper column. With generous excerpts from the letters, Bell-Scott shines a bright light on this significant relationship. A fresh look at Eleanor Roosevelt and a fascinating exploration of a cherished, mutually beneficial friendship. Copyright Kirkus Reviews, used with permission.